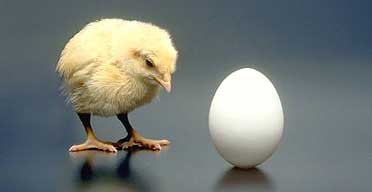 Not to belabor the topic of corporate justification, but I would just like to, very briefly, add one more thought to this important topic (please read three of my recent posts on this important topic: "
The Sticking Point,
" "
My Personal Journey With Corporate Justification,
" and "
Investigating the Biblical Basis for Corporate Justification
") .
That is, I have heard people object that God could not have justified the whole world at the cross because "to justify" means not only to "declare righteous" but to "make righteous." And since the whole world is clearly not righteous in an actual sense, there is no way God could have justified the whole world at the cross.
Furthermore, what benefit is there to God to declare someone to be righteous if that person is not actually righteous? Isn't it just a sham righteousness that does not fool God, whose ultimate goal is to have a people who are actually made righteous?
But such objections beg a lot of questions.
Firstly, how is a person made righteous?
Secondly, does a person's righteousness exist prior to God's declaration of righteousness, or subsequent (or even simultaneous) to it?
Thirdly, at what point in a person's righteous life is he or she at a place where God is justified in declaring him or her to be righteous?
Now, let's exercise our noggins a little bit.
To the first question, how is anything made? By God's word: "For He spoke, and it was done; He commanded, and it stood fast" (Psalm 33:9). "Then God said, 'Let there be light, and there was light" (Genesis 1:3).
To the second question: nothing exists in reality prior to God's declaration of it. With the example above, light did not exist prior to God's declaration of it. Neither does righteousness exist prior to God's declaration of it. Therefore, if I insist that God can only declare people to be righteous who are first made righteous, then I must insist that a person has made himself or herself righteous - because the means by which God makes something righteous is by speaking it into existence through His word.
Of course, the response will be that God declares people to be righteous who have faith, or that His declaration and making righteous are simultaneous. Very well, then. But whence comes faith? "So then faith comes by hearing, and hearing by the word of God" (Romans 10:17). Thus, it is God's word that produces faith also.
Therefore, God's word is the means by which faith is induced and sinners are made righteous. This is why God declares the whole world to be righteous; this is why He justified and forgave the whole world at the cross. Because declaring the whole world to be righteous is the only way that God can make a person righteous.
Thus, it is neither pointless nor superfluous for God to declare that sinning people are actually sinless. Neither is God lying when He does so. He is calling "those things which do not exist as though they did" (Romans 4:17). He is actually living by faith; acting on the basis of what He sees, by faith, we can become when we respond to His word. (This is why Galatians 2:16 says we are not "justified by the works of the law but by the faith of Jesus Christ.")
This is because God's word, His declarations, His decrees contain power in themselves to accomplish that which they say they will accomplish. "My word . . . shall not return to Me void, but it shall accomplish what I please" (Isaiah 55:11).
As Ellen White notes,
In every human being [Christ] discerned infinite possibilities. He saw men as they might be, transfigured by His grace - in "the beauty of the Lord our God." Psalm 90:17. Looking upon them with hope, He inspired hope. Meeting them with confidence, He inspired trust. Revealing in Himself man's true ideal, He awakened, for its attainment, both desire and faith. In His presence souls despised and fallen realized that they still were men, and they longed to prove themselves worthy of His regard. In many a heart that seemed dead to all things holy, were awakened new impulses. To many a despairing one there opened the possibility of a new life. (Education, p. 80)
The truth of the gospel is that hope begets hope, faith begets faith, confidence begets confidence, righteousness begets righteousness, and God's word begets that which it declares. Thus, God's declaration of the entire world's justification begets - if we will let Him do it for us - our being made righteous.
Of course, there is one small caveat: God never takes our free choice away. Even though God's word necessarily produces that which it declares, there is one instance in which this is not the case. God's word is infinitely powerful, but it chooses not to force man's will. Thus, though Christ does declare us all to be righteous in a grand attempt to get us to believe His perspective and respond by faith, His declaration will not force our will.
But this doesn't change the reality of Christ's perspective nor His continued attempt to convince us of that view. Indeed, when we respond to God's view, as my friend Ty Gibson says, "Faith believes facts; it doesn't make facts" (A God Named Desire, p. 147, emphasis original).
And thus is the beautiful and glorious truth of the power of God's incredible declaration of corporate justification.