Fact: Boston is arguably the greatest sports city in the world (and by the "world," you, of course, know that I mean the United States). Nowhere will you find a region with such passion for its sports teams. And with recent championships to match its passion, no city - or region, for that matter - has as much to talk about and celebrate as Boston and New England.
After being "cursed" and not winning a World Series for 86 years, the Red Sox have now won two championships in four years. The Patriots have won three Super Bowls in the last six years, and are having a historical season this year, with some national commentators labeling them the greatest team of all time. The Celtics, on the other hand, had one of the greatest off-seasons of all time and are hoping to raise another banner to their over-filled rafters. The Boston College Eagles are ranked #2 in the country in college football, and even the woeful Bruins are having a good season so far.
As a life-long Boston sports die-hard, you would think that I would be happy. But something isn't quite sitting well with me.
Until now, I have tried to avoid writing about sports on my blog. Though, ashamedly, it takes up quite a bit of my thinking, I haven't wanted to write about these things on here when there are things of far greater importance to discuss. I am not proud of the attention I give to this pasttime, and it's something I've struggled with for a while. But I felt I needed to bring up a few points.
Let's start with the New England Patriots. For six or seven years now, these losers of years-gone-by have been on the top of the NFL world. After winning three Super Bowls in seven years, every other franchise in sports has wanted to emulate their "team-first" model. Their owner has been a first-class owner, who has always tried to bring in high-character players. The coach emphasizes team over individual glory. The quarterback is one of the hardest working players in all of professional sports. All of these attributes are certainly admirable, even from a Christian perspective (however flawed the foundation of sports is in the first place - an "I win, you lose" mentality that is antithetical to the gospel).
This year, the Patriots have assembled one of the most talented group of athletes one football team has ever collected, and it has paid off so far. They are on pace to set a whole slew of individual and team records. This next week's game against the Indianapolis Colts has been labeled the greatest regular season game of all time.
But all is not well in the world. At one point, everyone in the NFL loved the Patriots. They were the underdogs who came out of nowhere - a "David vs. Goliath" story every week they played. Now everyone hates them. One writer has labeled their upcoming game with the Colts a game of "
Good vs. Evil
" saying that "The fact that I don't even need to tell you which team represents Good and which stands for Evil says a lot about how low New England has sunk." Imagine using such superlatives to talk about a football game - a
football game!


Why the sudden disdain for the Patriots, though? Because they're a bunch of classless cheaters, who run up the score versus other teams, according to many critics. For those who don't know, the Patriots were caught cheating earlier this year, videotaping their opponents signals. Besides the fact that the videotaping wasn't really all that beneficial, everyone has now spewed their collective venom towards our darling Patriots.
Coach Bill Belichick - who no one outside of New England has ever liked, anyway, since he's tight-lipped and "arrogant" - refused to talk about the incident, causing people to wonder how much cheating the Patriots have been engaged in over the past years. Many have even called into question their previous Super Bowl victories, wondering if they used such tactics then.
And what have the Patriots done since then? They have, in essence, stuck it to the league. There is no doubt that Belichick, who holds a grudge like no other figure I have ever seen in sports, is trying to run up the score in the games they are playing, pretty much breaking every rule of etiquette in football. Yesterday, they were winning 38-0 in the fourth quarter - a lead that no one has
ever
surrendered in the fourth quarter - and they were still gunning for the End Zone. They ended up winning 52-7.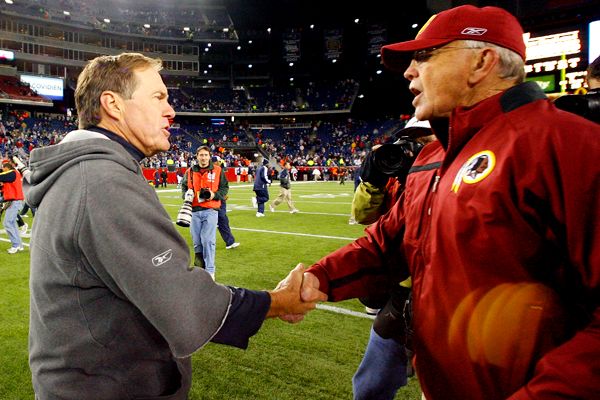 After the game, the opposing coach, Joe Gibbs, hardly spoke to Belichick - if at all - in the obligatory hand-shake. He was visibly upset, though in his press conference, he said that he had "no problem" with what the Patriots did. The players, on the other hand, weren't as cordial. "
That was blatant disrespect," said one player, who confronted Belichick after the game about the move
, "I hope we can see them again, definitely. You don't see Joe Gibbs doing that. You can't even imagine that kind of stuff coming from him. . . This isn't like college going for power rankings. This is the pros you show some respect, show some class."
There is no doubt what Belichick was trying to accomplish. He, once again, shrugged off the idea after the game, however. Earlier in the week, he said in reference to these situations, "When you're playing defense it's your job to stop them. It's not (the offense's) job to not score. It's like I tell the offense, what the (bleep) do you think I send you guys out there for? To punt? We have a punt team for that. That's not your job. Your job is to go out there and score points. If you come off the field and you haven't scored points you haven't done your job."
What seems like a little silly football issue has many people fuming. And from a purely humanistic perspective, I can't fault the Patriots for scoring as much as they can, and "getting back" at all those naysayers who have questioned their integrity (of course, you don't prove your integrity by throwing out your integrity). But, as a Christian who follows sports, I cannot check my morals at the door when I watch a game. Though they are playing a sport and they're paid to score as many points as possible, these are still people with hearts and minds who are deserve respect, no matter what they may have said about you.
And I feel terribly about Belichick's behavior towards Joe Gibbs, one of the classiest men in all of sports.
Himself a Christian
, I know that he treats other people with respect and dignity, yet Belichick kicked the man while he was down, showing little respect for a man who has accomplished so much - both in football and, more importantly, in life.
This isn't the only fault of the Patriots, of course, beginning with their cheating in the first place. The fact that they are not alone in their cheating - every team in every sport does
something
that is illegal in order to get an advantage - does not acquit them, it merely indicts the whole system of sport-worship that we have bought into. And, in many ways, we are the reason for the cheating. We pay millions of dollars, devote thousands of minutes, and become hysterical to the point of violence in the name of sport. How can we then fault these professionals who are only trying to do everything they can to surpass our expectations and demands?
Belichick's personal life isn't one that I should necessarily admire, either. I may root for him one day a week, but how can I ignore the other six? Though I realize we are all in need of God's grace,
this is a man who is accused of having had an affair some years ago, thus forcing his wife to leave him.
He is also the man whose son, while traveling around Europe with the family a few years ago, came up to him and asked, "Dad, who is this man?" It was a statue of Jesus (In his defense, Belichick said he wasn't proud of the incident). He also has a son - whether the same one, or another, I'm not sure - who was arrested a few years ago for marijauna possession. I'm sure it's not a coincidence that Belichick will often spend all night in his office at the stadium, "game planning" for his next opponent.
And then there's the "Poster Boy" Tom Brady, that of GQ fame, who is dating one of the world's
most glamorized Super Models - and he ain't too shabby looking himself. This, after impregnating his former girlfriend, who he dated for three years. When the story first broke about his ex's impending motherhood, there wasn't even a peep out of the man, arguably the greatest quarterback of all time. He had his spokesman issue a statement,
as he was seen in Paris with his new flame
(I'm sure, after making a mistake the first time, Brady made sure that he and his new lady had separate rooms for their romantic weekend excursion). As many have pointed out, I can't help but wonder what people would be saying if Tom Brady were black.
And these are the people I cheer for every Sunday.
I overlook their inefficiencies, not because it's the Christian thing to do, but because they keep me entertained week in and week out.
What a terrible monster we've created.